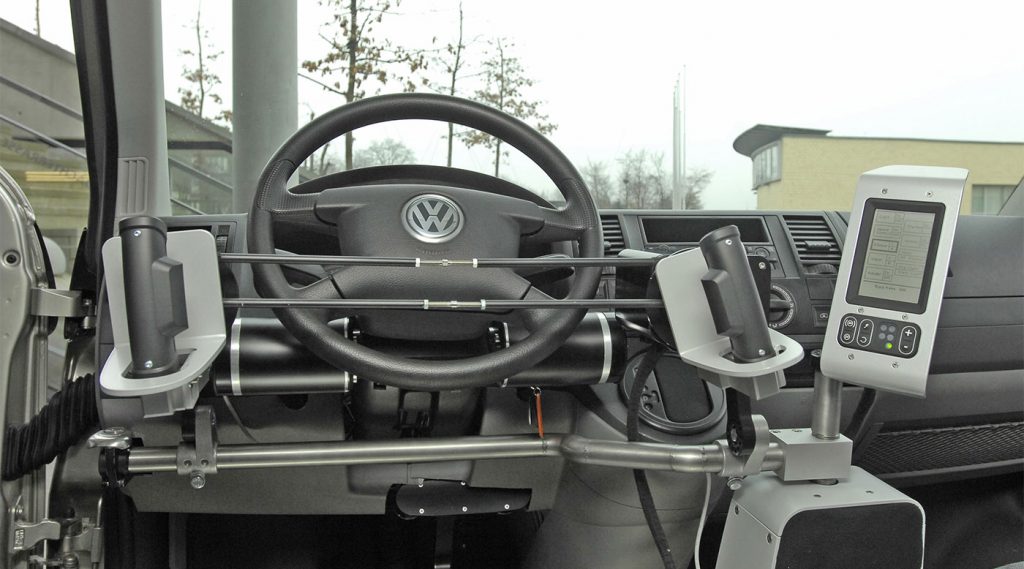 JPAS (Joysteer Power Assisted Steering) – The New Functionality for Joysteer®
Bozzio AG now offers a new functionality for joysteer®. The JPAS function supports the driver when driving conventionally without the need to disconnect the steering actuator.
Bozzio AG has further optimised the product joysteer®.
JPAS (Joysteer Power Assisted Steering)
This functionality commutates the steering actuators while driving conventionally. As a result, without mechanically disconnecting the actuators, the steering effort with JPAS comes close to the original effort, especially during sustained curves and relatively quick changes of direction. In addition, we continue to avoid with joysteer® all issues that can occur when disconnecting / reconnecting the steering actuator. 
Low Force Joystick
Bozzio has developed a new steering algorithm which has showed a much better steering behaviour. Steering is now smoother, especially when driving on roundabouts or with higher speed. The "Low force joystick" is a good solution for customers with a very limited range of force or range of movement. When space is critical (like with a "center-front" position of the joystick) or when the customer has already a long driving experience with competitive systems, this MMI could also be your best proposition. In summary, the "Low force joystick" will match the driving performance of our competitors, but joysteer with active force feedback will clearly take our driving performance "beyond". 
Servicemanager 2 
We have developed a completely new Servicemanager tool. We significantly simplified the user friendliness of our Servicemanager and the handling of MMI Presets by evaluators or driver trainers. The operation with Windows touch screen tablets is also possible. 
We are confident to provide an even better product with these enhancements.